S i t t i n g _ P r e g g y
* * * * * * * * * *

I am:
..everything taurean
..a positive pessimist (wtf?!)
..a lucid dreamer
..an occasional bitch/warfreak
..a frustrated drummer
..a rocker wannabe
..a guitar playah
..a lover of cats
..a fanatic of starbucks' rhumba
..a movie freak
..a certified OC
..an artist by heart
..a proud mommy
..a hot momma...hu-whhaat?!
---
Today I feel:
---
---
have a break..have a
c h i t - c h a t !
---

The sweetest flowers in all the world - A baby's hands.
~ Swinburne
---
* * * * * * * *
Saturday, August 09, 2008
hahahah! i'm reading my previous posts and hahaha! may pagkamakata pala ako..akalain mong nakakagawa ako ng mga tula?! yan ang tinatawag na "when inspiration strikes"...but i'll never be half of what a poet toi luna is...ibang lebel yun sa galing eh! =)
it's been three long years since i last visited blogdrive and a lot of things have happened. i dont know where to begin..i dont even think i want to write--or should i say type--them all here...i also can't believe i liked pink to actually use it for my theme?! eow...must be the hormones brought about by pregnancy...hmm.
but one thing is for sure...I'M BACK!!! well, to blogging that is (yeah right!!!..hehe!)..but i dont know if i still want to use this and i might make a new one...but for now, i'm happy that i was even able to restore my radioblog..ah yeah!!! =) ...wish to add more songs soon...now, i'm just waiting until i can bring back my unkymoods again especially that i've learned it's now punkymoods..fine...happy!!! (",)

milked out of
Sitting_Preggy
's thoughts at 1:49 am
got milk?
____________________________________________
wow..that's all i can say for now..have been gone for so long..although it was nice to look back and read previous posts, man, there sure were a lot of changes on my bloggie baby...i lost my blog radio..the number of hits have stopped counting..the scrolling marquee's no longer working...and what's this?! now there are unwanted ads on my entries?! i don't know where to begin actually..how do i get rid of them?! help!!!!
**entry now edited after viewing post: okay..so all i need to do was to post something to get of rid of the undesirable ads..damn, i cant even remember the color code i used for my entries! i feel like i'm starting all over! and i thought the marquee's not working! damn! i'm officially a new oldie-html idiot..this is what parenthood makes of you..you get to ignore and forget about blogging. ang hirap dito, may multiply pa ngayon.

milked out of
Sitting_Preggy
's thoughts at 1:44 am
got milk?
____________________________________________
Friday, September 16, 2005
i was able to create an online album for alex! (not to mention, organized)...just click on any of the photos you see on my flickr badge down on the side section. i found this pretty neat photosharing site. 'will be adding more photos as she grows. happy! =)

milked out of
Sitting_Preggy
's thoughts at 8:03 pm
got milk?
____________________________________________
Sunday, September 11, 2005
im itching to have a new project. something that would challenge my artistic side- if i ever really have one. im thinking of making over our house. it's no secret that im into interior designs and i strongly regret that i didnt take the course back in college. however, all the design mags and shows that i've been seeing would suffice for now as i have pretty much grasp the basic rules in interior decorating. like what i said, im eyeing our house as my guinea pig for this i-feel-like-designing trip that i have lately. the first thing i have to figure out though is the budget. how much do i need for the make over? hmmm. come to think of it. i should be thinking first of what i want to change in the house. well, i want to change the color of our walls. i want to have an accent wall. then i want to buy some home accessories. after that, i would change the furniture layout. i want the house to be more elegant yet homey at the same time. i want to mix pinoy style with zen...woah! how the hell am i gonna do that?! haha! no, lemme correct that, i want to mix traditional and modern ways of improving the look of our home. hmm..
i miss our house. i miss home. i miss my family. that's probably the reason why im itching to do this project. to have a reason to stay there for a while. not that i dont get to see them anymore. hello, we are just a jeepney ride from each other. all i have to do is call and ask them to come over our place. or vice versa.
Oh, who wouldnt want to be there?! i miss my dad's home cooking. See, my dad is a great cook. i miss long silly talks with mom and my brother before going to bed. i miss our cat pupu, whom i usually feed like a child on my lap. i miss watching primetime tv with them, fighting over whose gonna hold the clicker. i miss dad's late night pasalubong, usually chowking's siomai and beef mami. I miss spending sundays with them which means waking up to rj music and hearing "gising na! rj na!" on the background. I miss doing household chores with them, actually more of, fighting whose suppose to do this and that. and taking advantage of the fact that im the panganay..hehe. damn, i even miss my brother's annoying loud music!
It occurred to me that this September, mum and dad is gonna celebrate their silver wedding anniversary. And I want it to be special by giving the house a make over. While typing away, I have already determined the budget and where im gonna get it and everything. Oh! it's going to be one hell of a project. And it's going to be the most fitting gift for the bestest bunch of peeps in my life. 'Cant wait!

milked out of
Sitting_Preggy
's thoughts at 8:09 am
got milk?
____________________________________________
Friday, September 09, 2005
with all the oust gloria movement we have in the news... i say,
"sobra ng pahirap! patalsikin si alex! alex resign! alex resign!"
-- i would chant that while carrying alex around and she would just smile at me and i'd laugh back.

finally i had the time to blog. been a long time since i posted anything let alone blog hop. alex is sound asleep in our bikini bottom of a living room. let me explain.. her things are all over the place. it's not messy though. it's just that since we live in a small place, her things have taken up most of the space in our living room. hehe. i have pretty much baby-proofed the place. i read somewhere that discplining your child at this early age is more of gaining and building her trust. i try to refrain from saying "no" all the time when she tries to pick up things and puts it in her mouth. not that i let her eat them! i just find a way to distract her from what she wants to pick up and make her come to me instead. yeah, to create a distraction. somehow i've mastered it. from giving her keys to changing channels, from singing out loud to dancing like crazy. actually, they're also the things i do just to make her smile or laugh.
lately, i have to confess that i feel so stressed from taking care of my kiddo. there, i've said it. it's out. 'stressed' is actually an understatement especially if you have a kid like mine. think of a 7 month old baby who got used to being held and carried around that when you leave her for just a few seconds to, say, pee, she would come crawling to the bathroom door crying herself out as if she was being hurt and abused. we dont have a yaya right now as i have recently dismissed jing--and that's another story. anyway, i know that we are to blame alex is used to being carried around but i'd rather have her used to that than her used to self-soothing. it would feel like i'm ignoring her or something. but still, it's really physically draining! aargh. it got to the point when i can't move my left shoulder anymore and my knees are already shaking from exhaustion. overfatigue is the word, man!
do i sound like a whiner?! not that i dont wanna take care of her,of course! i just badly need a yaya to help me keep an eye on her at the same time run the house properly. i have to say this though. everytime alex smiles at me or crawl towards me or for every new thing that she has learned, i feel joy. i feel accomplished. i feel proud. and somehow the exhaustion just fades....not! hehe! well, the tired feeling is still there but you just keep on going because you know that nobody else would be more patient and more unconditional than you are for her who is so helpless and naive and innocent and little and cute and adorable and.. i can go on and on... oh for chrissake, im the mum and she is my baby... the joys and the pains of motherhood! one topic where i can rant and rave at the same time. haha! o well, 'guess as long as im a fulltime hands-on mum, i'd go on with my UP-activist chant--alex version, while kissing, hugging and tickling her at the same time.

milked out of
Sitting_Preggy
's thoughts at 3:06 pm
got milk?
____________________________________________
whatever happened to unkymoods?!

where's my mood?!

milked out of
Sitting_Preggy
's thoughts at 1:17 pm
got milk?
____________________________________________
Monday, May 30, 2005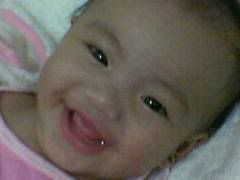 ang babaysot na ito ay simply adorable!
HAAAAYYYY!!!!






milked out of
Sitting_Preggy
's thoughts at 4:29 am
got milk?
____________________________________________
Thursday, May 05, 2005
thinking of making another blog since i'm pregnant no more. but maintaining one blog is katamad enough let alone maintain two or three more. but i'm definitely considering making a photoblog for my baby. maybe i'm just gonna have to change the layout or theme of this blog that i already have. or maybe not. i remember i deleted my original blog which should have now been two years old. uurgh! fickleminded me. this time i need to really think it over so that i wont regret anything. sheesh, babbling!...what do you care about my kaartehan anyway?! why am i posting such shallow, shitty stuff anyway? ...hahaha! just so i have an entry...sheesh! labo ko man! i'm just typing away actually...whatever comes into mind...going back to the blog topic though, in the event that i'll be making a new one, i have yet to come up with a title..something cool enough for me..i've always said that i dont want to put any entry that is online journalish..but i guess i've eaten my words already. ei, dont get me wrong, i have no problem with those that have a diary-like kinda thing in their blogs. in fact i like them cause it allows me to catch up with the latests of my friends' lives. obviously, right now, my entry is pretty much the same thing..but with lesser sense..since these are all but sort of typed blubber. ooh! gotta stop this now or else you'll never see the end of it....shoot! i think i already have my title! ha! wait and see....*wink!*

milked out of
Sitting_Preggy
's thoughts at 5:48 am
got milk?
____________________________________________
Tuesday, April 26, 2005
i thought i was bad in english...then i read yours...can't be any happier...you sound pathetic...hahahah! ooweeh, i'm such an MG -- mean girl....hahaha!!!

milked out of
Sitting_Preggy
's thoughts at 5:55 am
got milk?
____________________________________________
Tuesday, April 12, 2005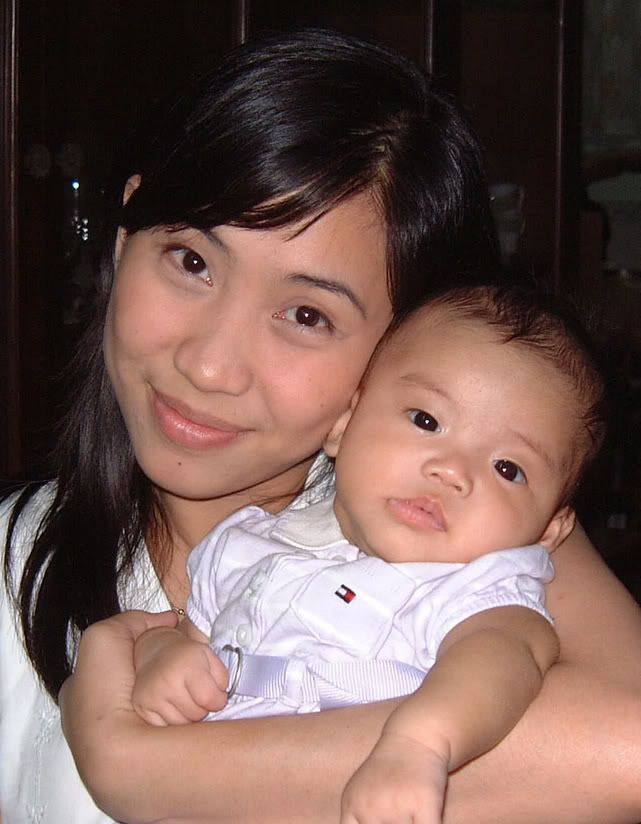 busy! busy! busy! ..been a long time since i've posted sumthin here..last december, i've been busy with my pregnancy's final stretch and with my civil wedding...early this year, january 5 to be exact, 'been busy with trying to give birth...for 15 hours! -- still i ended up goin under the knife--ceasarian delivery, for crying out loud! wheew! but mind you, bikini cut ito, hihi! and since then, 'been busy with taking care of my baby, Alessia Louise. =)

i'll try to post more pictures of my baby soon =D ain't she the cutest?! hehe!

milked out of
Sitting_Preggy
's thoughts at 5:11 am
got milk?
____________________________________________